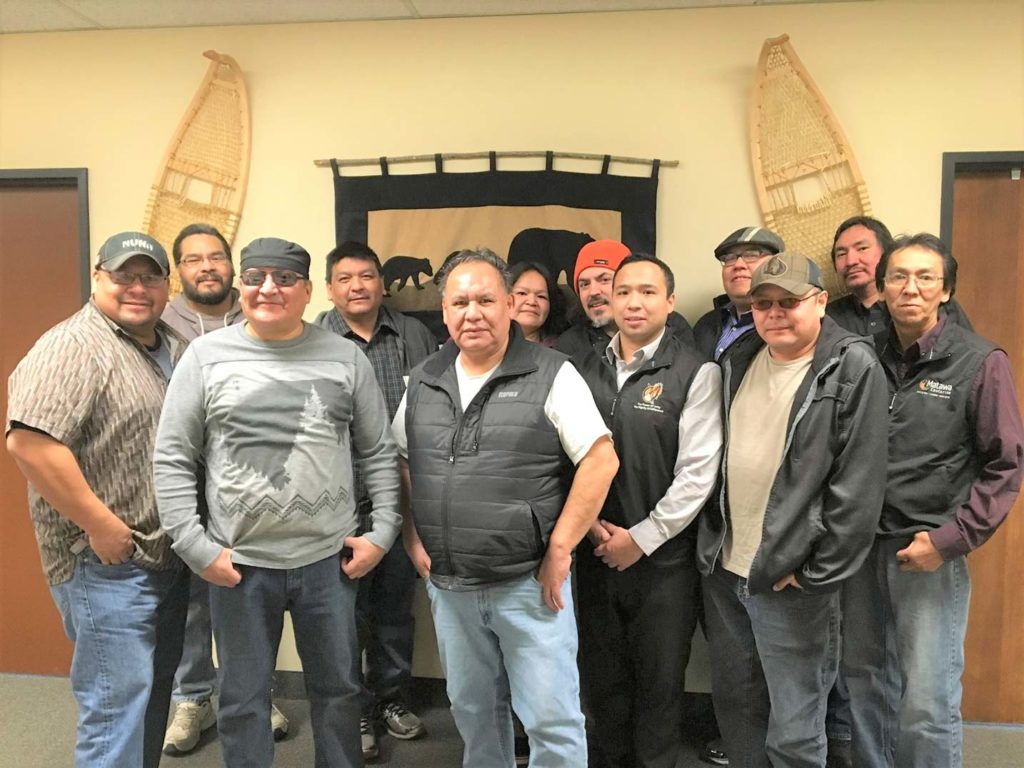 Oversight and governance of the project has been led mostly by Economic Development Officers (EDO) in the Matawa First Nations.
Pictured in this 2015 photo from front (left to right): James Suganaqueb, Late Lewis Nate, Jason Rasevych, Dave Moonias and back (left to right): Byron Wapoose, Wayne Slipperjack, Glen Wabasse, Delia Okeese, Mark Bell, Jonathan Neegan, Jordan Sturgeon, Harvey Yellowhed.
On February 2, 2020, the group lost one of it's members and acknowledge the vision, work and dedication that former Eabametoong First Nation Chief and EDO Lewis Nate provided.
The Rapid Lynx Board of Directors are appointed by each of the five remote Matawa First Nation communities who are part of the broadband project. As the project expands to Phase 2 for the road access Matawa First Nation communities a board member from each of the remaining four communities will be appointed from their community. Currently, oversight and governance is provided as follows:
Established in 2012, the Broadband Working Group has consisted of various members of the Matawa First Nations throughout the years. Today, it consists of:
Sam Kashkeesh – Aroland First Nation
Rob Moonias – Marten Falls First Nation
Donald Meeseetawageesic – Eabametoong First Nation
Edward Moonias, Gary Quisses – Neskantaga First Nation
Matthew Sofea, Byron Wapoose, Harvey Yellowhead, Gershom Beaver – Nibinamik First Nation
James Suganaqueb, Glen Wabasse – Webequie First Nation
Established for the project, the Executive of the Broadband Board of Directors has consisted of various members of the Matawa First Nations. Today, it consists of:
James Suganaqueb, Webequie First Nation – President
Matthew Sofea, Nibinamik First Nation – Secretary
Robert Moonias, Marten Falls First Nation – Treasurer